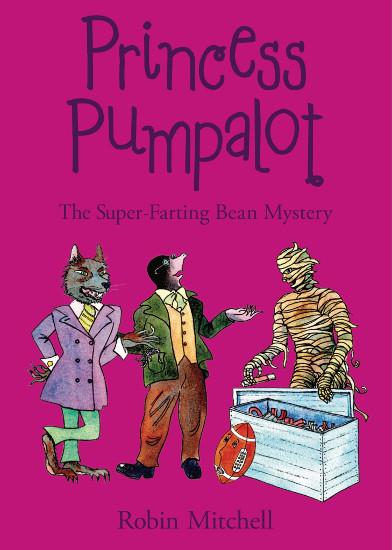 As our keenest followers will know, Witchery Tours founder Robin Mitchell also created the windy, rugby-loving Princess Pumpalot in the successful children's book of the same name.
The Princess and her Wiffyville chums then took a step further, jumping from the page to the stage at the Edinburgh Fringe in 2013. They haven't left since, with 2017 marking an astounding fifth year of full-throated flatulent fun.
The 2017 show is now barely a month away, but before it starts, Robin has another treat up his sleeve: the arrival of the second Princess Pumpalot book, Princess Pumpalot: The Super-Farting Bean Mystery!
Can Princess Pumpalot (The Farting Princess) and her best friend Guffy solve the mystery of the priceless purple super-farting bean? Aided by a set of bizarre clues from some of Wiffyville's more unusual residents including a werewolf, a mummy and a prisoner that isn't a prisoner, Princess Pumpalot and Guffy embark on a mind-boggling adventure to solve this 'whodunit'. On route, the brave duo are confronted at regular intervals by their arch enemies - Prince Nastavia and the Low-Flying Gnomes. Will Princess Pumpalot and Guffy succeed in their quest?
The new book features illustrations by Scottish artist Keli Clark. Keli is one of Edinburgh's and East Lothian's better known artists. Her work encompasses a wide and varied range from: Scottish land and cityscapes, murals, works of magic and mystery, faeries, cats and birds. After this commission Keli can add a mummy, a werewolf and a bearded witch to her portfolio!
Keli said of the work: "I was delighted to be commissioned to illustrate the new Princess Pumpalot book. It was great to exercise my creative mind on completely new characters."
Audiences of last year's Fringe show will have, unknowingly, received a sneak preview of some highlights of the new book: it featured a new narrative, parts of which (including new characters) went into what became Princess Pumpalot: The Super-Farting Bean Mystery. The 2017 Edinburgh Festival Fringe production (which takes place at Le Monde in George Street) is based on the new book.
The new book will be released towards the end of July. As soon as it's off the presses, it will be available alongside the original right here in our online shop.