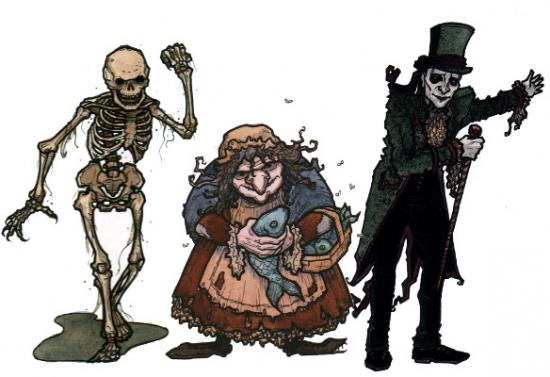 The Cadies & Witchery Tours are proud to support Scottish artists, and our shop on Victoria Street boasts work for sale by several highly talented individuals, but our longest-standing and most prolific contributor has undoubtedly been portrait artist and illustrator Katy Jones.
Katy attended the Edinburgh College of Art where she was awarded a BA (hons) in Illustration, and currently lives and works in Aberdeen. Over the years she has produced dozens of illustrations, posters and paintings for the Cadies, both for Witchery Tours projects and for our other literary, theatrical and film productions.
Some of her most popular works for us have been her cartoon versions of the Witchery Tours' host of ghostly characters, which have featured on greeting cards, T-shirts and mugs (as well as gracing this very website!).
Her lively illustrations also help bring Robin Mitchell's best-selling book Princess Pumpalot: The Farting Princess to life:
Princess Pumpalot book and merchandise available in our shop
Many of these lovely images are available to buy in various formats through our online shop! However, if you want to get your hands on a Katy Jones original, why not visit our real-world location on Victoria Street? We have a collection of Katy's fantastic oil paintings on display here, many of which can also be bought as limited-edition high-quality prints.
Katy's darkly beautiful paintings and fun, detailed illustrations have greatly enriched many Cadies productions and added much-needed colour to our gloomy environs, and they can do the same for you!
All images are © Katy Jones, katyjonesartist@gmail.com