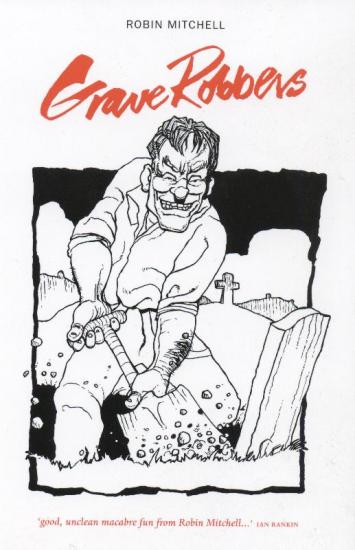 After years of sleeping peacefully, the deceased dignitaries of Old Edinburgh are about to get a nasty surprise...
Grave-digger and funeral enthusiast Cameron Carter lives a relatively quiet life. Until a misplaced shovel cracks open a coffin lid and reveals a hidden fortune, that is. Nearly one hundred and seventy years after the trial of Scotland's notorious body snatchers, William Burke and William Hare, the ancient trade of grave robbing returns to the town's cemeteries.
Forming an unholy union with a small time crook, Adam, Cameron is drawn into a web of crime that involves a bogus American Scholars' Society, chocolate chip ice cream and Steve McQueen. Their sacriligious scheming doesn't quite go to plan however, and events begin to spiral dangerously beyond Cameron's control.
Will our hero pull the tour guide of his dreams?
Will his partner in crime ever shift those microwaves?
Is there an afterlife?
In Robin Mitchell's rude and darkly comic debut novel, all the answers will be exhumed.
Warning: This book contains strong language and may not be suitable for younger readers.