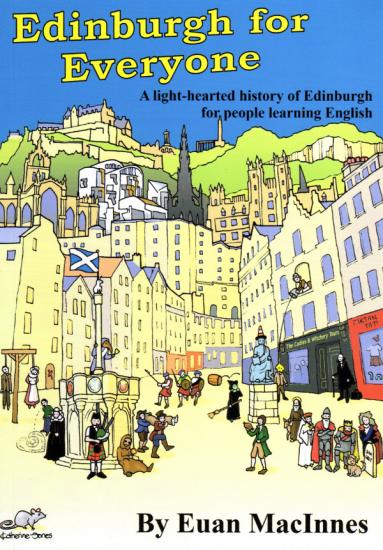 Edinburgh for Everyone is the Edinburgh history book that's both funny and amusing but also written in a way that is easy to understand for everyone.
Where else can you learn about all of Edinburgh's history but still find out fun facts such as: the King who made a boy learn to talk like a seagull; the social network of Bonnie Prince Charlie; and a break-dancing philosopher?
Which other history book can teach an Edinburgh local about the history of their city, yet also can allow a language learner to practise their grammar?
Where better to find beautiful photos of Scotland's capital, fun illustrated stories about Edinburgh's past and great illustrations all in one place?
Edinburgh for learning, Edinburgh for fun, Edinburgh for Everyone!
Edinburgh is a beautiful city with a fascinating past and this book is a way of telling the world about that. If you want to know more about this wonderful place and its history then this is the book for you.
The book starts from the beginning when volcanoes erupted to make the Castle Rock, moves on to tell the story of the Old Town and ends by telling you how it became the Edinburgh loved by locals and tourists. Also there you'll find short stories about the interesting characters who lived there, the grand architecture and the crazy events that happened in Edinburgh. All of this is written in a fun way, but in plain English so everyone can enjoy it.
As a language learner this book has an extra element to help you enjoy it:
Written in plain English to assist understanding.
Every page has a small glossary so you don't have to search through a dictionary.
Comprehension questions at the bottom of each page so you can focus on the important points.
Small sections with a grammar element so you can practise your English language skills.
Vocabulary sections to help build up your knowledge.